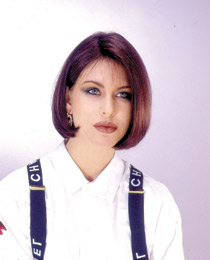 SLEEK, SMOOTH, & CLASSIC!
With the benefit of a natural looking mono-filament part, the GIA offers a pre-set left side part that cause the style to naturally fall into place, hugging the wearer's profile with its' smooth & classic lines.
With its' uniform hair length, this style is the definition of easy-to-wear...
Standard:
2, 6/2, 8/2, 4, 8/4, 10/4, 8/6, 10/6, 12/6, 16/6, 33/6, 10/6/8, 30/6/8, 12/8, 14/8, 16/8, 16/10, 14/12, 16/12, 24/14/12, 24/16, 16/18, 18/22, 18/24, 27/27/30, 33
Specialty:
1B, C/4, 33/4, 27/14/12, 30, 32, 500, 600